https://www.fairfieldcitizenonline.com/news/article/Boogie-boards-and-puddle-jumpers-coming-to-13013905.php
Boogie boards and puddle jumpers coming to Fairfield beaches
Photo: Vic Eng / Hearst Connecticut Media Group
FAIRFIELD — Flotation devices can now be used by swimmers at all town beaches and the boogie board ban has been lifted at Jennings and Penfield beaches, following votes Wednesday by the Parks & Recreation Commission.
Personal flotation devices that are approved by the U.S Coast Guard, including "puddle jumpers," which Commissioner Bridget McBride, who proposed the changes, said are the most popular among young parents. She said surrounding towns like Westport, Norwalk, Darien and Greenwich all allow the use of PFDs by swimmers.
"The whole point is to keep small children afloat," McBride said, as she showed fellow board members what a "puddle jumper" looked like.
The rules change, however, would still not allow inflatable devices, such as "swimmies" which slide over a child's arms, or rubber rafts or air mattresses.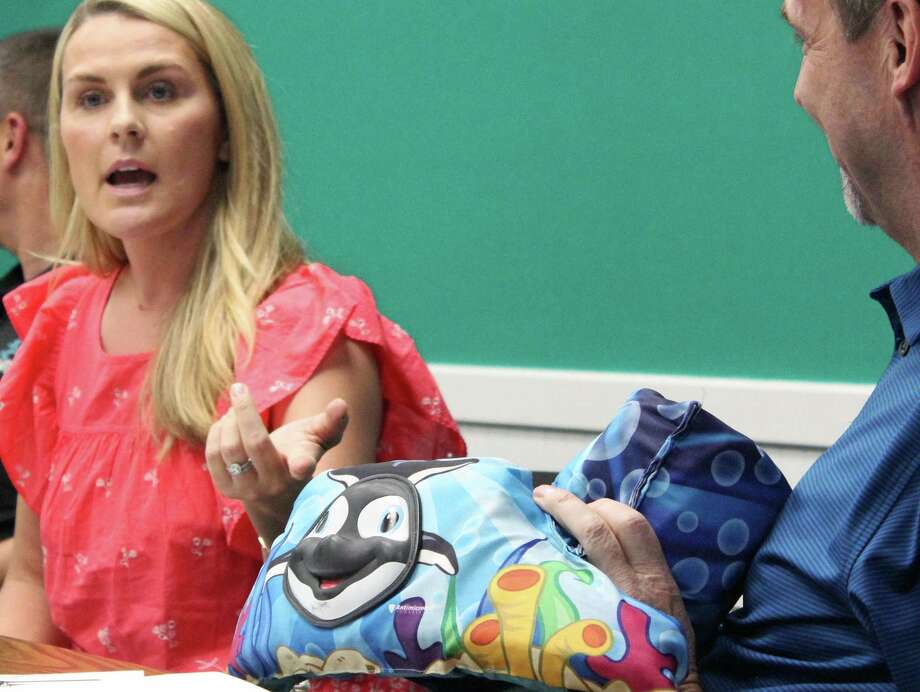 Photo: Genevieve Reilly / Hearst Connecticut Media
Beachgoers at Jennings and Penfield will now also be allowed to enjoy boogie boards, kick boards and stand up paddle boards in areas that will be designated by Recreation staff. There is already a conditional skimboarding area at one end of Jennings Beach. The ban remains in place at other beaches.
"I think it enhances the beachgoers' experience," McBride said, "and it's fun."
Chairman Scott Walker asked if it would provide a challenge to staff if they were to allow things like boogie boards. Recreation Director Anthony Calabrese said it would have to be in areas outside of the designated swimming areas.
"I think that it poses a severe challenge," Asst. Waterfront Director Dan Zeman said. He noted that Jennings is "heavily trafficked" on nice days, and he could see people start using the boogies boards outside of the designated areas. Zeman said it could be trouble when a youngster not wearing a PFD loses their boogie board and starts chasing it and ends up in deep water.
"I completely respect what you're saying," McBride said, but added she came from Manhattan Beach in California, where signs were very, very clear about where boarding was allowed. And, she said, "This is Long Island Sound, it's basically a lake."
It's exactly because there aren't big waves at town beaches that they see a lot more kids in the water, Zeman said. "I think that poses a clear risk," he said and added that parents don't always keep a close eye on their children.
greilly@ctpost.com; 203-843-2585