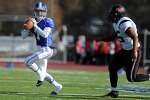 A transfer from Florida, Jaivon Beasley had been playing receiver, so that's where Camera put him. ... And others, like Beasley. ... "From a star-power quality, he's right there with Jaivon," Camera said of Howell.
HS Sports Roundup Beasley scores twice in Falcons' loss By Chris Elsberry Football Jaivon Beasley scored two touchdowns for Ludlowe but it wasn't enough as Norwalk put together a 28-point second quarter en route ...
Football newcomer Jaivon Beasley will compete in the sprint events and Billy Stapelton will compete in the throws.