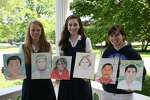 The Lauralton Hall Art Club is co-moderated by art teachers Liz Musante and Judith Doherty.
The club, under the direction of art teachers Judith Doherty and Elizabeth Musante, has donated to other organizations, including the Milford Senior Center.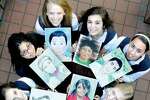 Art teacher Judith Doherty of Milford said she was impressed by the talent of the students. "They started in September and said they couldn't draw," Doherty said.